Insight for Certification Bodies
In partnership with Trace One, we've introduced an analytics module providing a fantastic insight into your business.
Insight is an add-on to the BRCGS Directory; a dedicated business solution that can help you to drive and grow your business by utilising content in real time across all products and markets.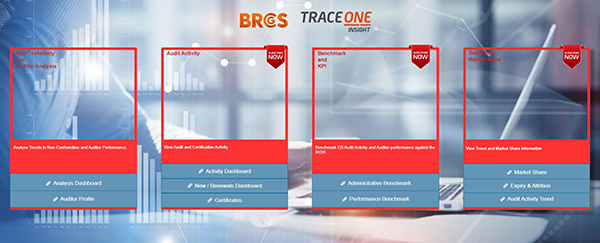 Insight offers a free introductory module for certification bodies to help you analyse auditor performance to understand over and underperformance.
As a certification body you face multiple daily challenges:
access to management information
the capability to analyse data quickly
ensuring compliance with the BRCGS Standards
identifying opportunities and risk
generating new business opportunities

How we can help
Insight provides a user-friendly solution to help you achieve your business objectives:
reduce administration time and release resources;
benchmark key metrics against your peers to understand areas of threat and strength;
track KPIs against BRCGS performance measures to drive compliance and improve your grading; and
analyse and review performance trends across the business to identify risk and opportunity.
Contact us to arrange a FREE demonstration.