Food Fraud
Food Fraud is a fraudulent and intentional substitution, dilution or addition to a product or raw material, or misrepresentation of the product or material, for the purpose of financial gain, by increasing the apparent value of the product or reducing the cost of its production.
It therefore differs from other food safety and integrity issues, as it is a deliberate, economically-motivated, activity.
Food fraud can take a number of different forms, for example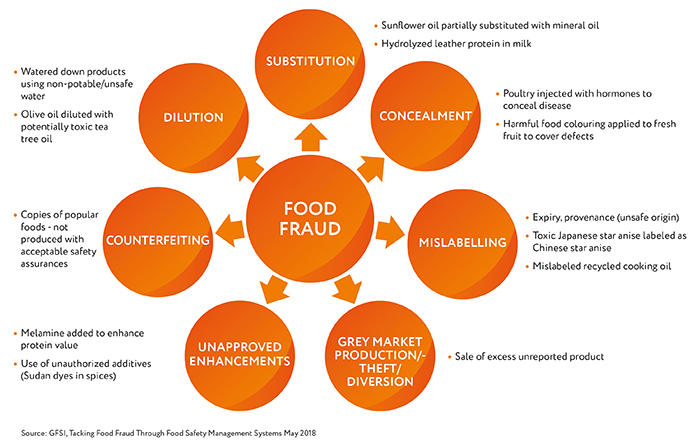 BRCGS and Food Fraud
BRCGS was the first GFSI scheme to have food fraud vulnerability requirements, which were first published in January 2015.
According to the BRCGS Food Safety, Issue 8, systems shall be in place to minimise the risk of purchasing fraudulent or adulterated food raw materials and to ensure that all product descriptions and claims are legal, accurate and verified.
The aim of this is to ensure sites:
Assess their raw materials and supply chains for potential vulnerability to food fraud activities, prior to delivery of the raw material to the site
Have appropriate controls in place to minimise the risk of purchasing fraudulent or adulterated raw materials
Can substantiate claims relating to raw materials
Sites are therefore required to have a vulnerability assessment in place and where there is an identified risk of fraudulent activity, to manage and control these risks.
Help and Guidance
BRCGS have published a complete guideline explaining how to complete a vulnerability assessment. This can be located in the BRCGS online platform, BRCGS Participate and is also available in our Store.
BRCGS also offers a one-day course, which provides delegates with a thorough understanding of vulnerability assessment for food fraud and enables them to develop techniques to identify and mitigate risks associated with raw materials in their supply chain.
More info and dates here.
The pandemic has increased the incidences of fraud. Measurement results of high quality are vital to inform risk assessments and enable the design of programmes to help secure global food supply chains and protect consumers and legitimate businesses from food fraud. This whitepaper sets out the role of Proficiency Testing in protecting food integrity. 
Download the Whitepaper on Food Fraud
Tools
BRCGS in co-operation with SSAFE and PwC is offering a free food fraud vulnerability assessment tool.
The tool is a first-of-its-kind solution to help companies fight food fraud and give consumers greater confidence in the integrity of their food. It is a simple Q&A tool that assesses opportunity, motivation and control.
 Also, you can watch videos, where you will learn more about SSAFE:
Sources of useful information