DESIGN YOUR OWN PROFESSIONAL DEVELOPMENT 
A fundamental part of any career, continuing professional development demonstrates your commitment to best practice and innovative trends, keeping you at the forefront of your industry.
Our Professional Progress Programme is designed for you to maintain your BRCGS Professional status whilst giving you the flexibility to tailor your own professional development based on your needs and goals. 
Exclusively available to those who have achieved the BRCGS Professional status, progressing through the Professional Progress Programme will:
• Extend your BRCGS Professional status for an additional 24-months
• Keep you up to date with industry and maintain a global benchmark of skills
• Raise your status as a valuable employee
To complete the Professional Progress Programme you will need to adhere to the following requirements;
The Professional Progress Programme operates on a 24-month cycle, commencing as soon as you have achieved the BRCGS Professional status. If you've met the requirements at the end of the 24-months, your status will be extended and you will be issued a new certificate and digital open badge.
Eligibility
You must be a BRCGS Professional and employed at an active BRCGS certificated site.
Professional Progress Points
Design your own professional development by selecting activities from the points matrix below. The points are not restricted to BRCGS activities; if they're relevant to your career they can be counted as Professional Progress Points (PPP).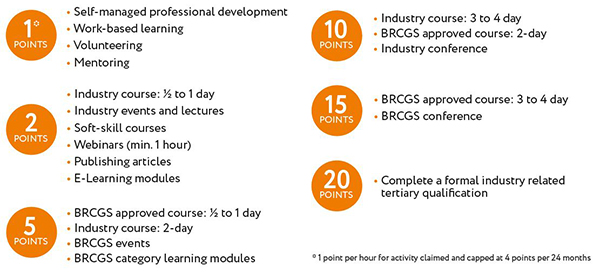 Achieving 20 points within 24-months will fulfil these requirements and contribute towards extending your BRCGS Professional status.
The PPP is self-managed through BRC Educate where you can log your records and track your progress.
Your Standard
You have 12-months to complete a BRCGS conversion course with each new issue of your Standard.
This requirement is only applicable to individuals who have a new Standard released within their
24-month cycle.
Any Questions?
If you have any questions please contact: professional@brcgs.com
Download a PDF version containing all information above here