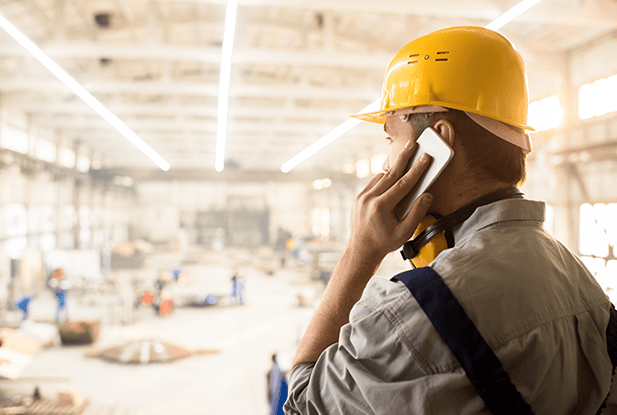 The fight against corruption, fraud and human rights abuses around the world place greater importance on businesses to implement whistleblowing systems.
One recent seismic event has been the enaction of the EU Directive on whistleblowing, which has caused a tremor within the food safety and supply chain assurance industries.
The new directive will require organisations with 250 plus employees to comply with legislation on how to deal with corruption and wrongdoing in the workplace. Those with between 50 and 249 employees have until the end of 2023.
Fighting corruption, fraud and human rights abuses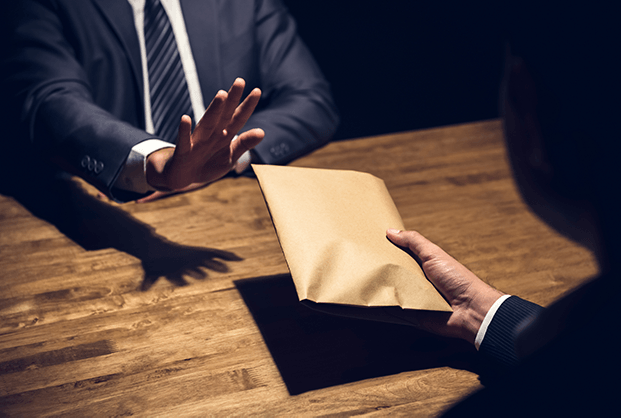 So, why is this happening now?
In a previous article on ethical trade and responsible sourcing, we touched on how consumers are becoming more aware of what they buy. There is an increasing demand for products that are certified ethically sourced, and free from human rights abuses.
We saw in January 2021 how the US Customs and Border Protection (CBP) changed policy on cotton and tomato products grown or produced by entities operating out of China's Xinjiang Uyghur Autonomous Region (XUAR).
After pressure from labour and human rights groups, plus members of Congress, the CBP has now directed personnel to detain these products.
And more recently, the UN secretary-general of the United Nations, António Guterres, stated that 'our world is facing a pandemic of human rights abuses'  as a result of COVID-19.[1]
This all points to a climate of change within the supply chain eco-system.
Consumers, governments and lawmakers are seeing the consequences of fraud, corruption and human rights abuses on people and the economic damage they cause, estimated to be 6% of global GDP ($5.127 trillion).[2]
How do a whistleblowing protections help?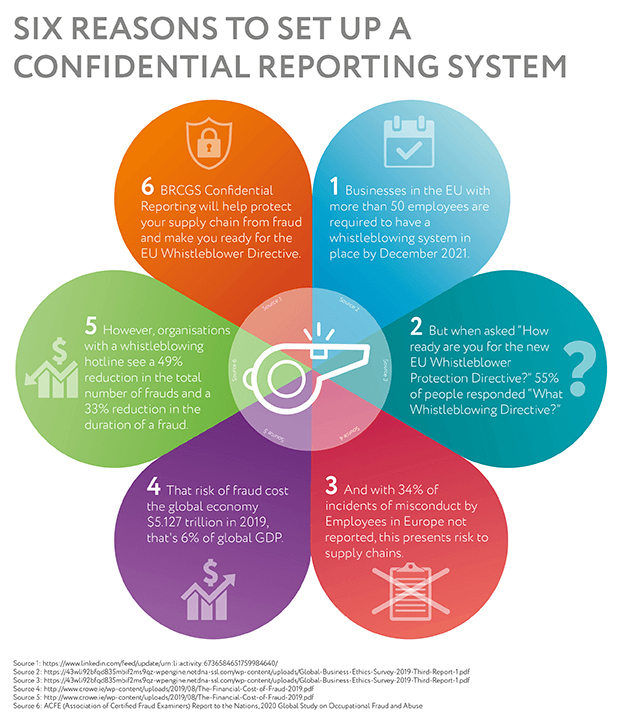 Regulators know how important protections for whistleblowers are in combatting these trends.
Forbes reported that retaliation towards whistleblowers is a fundamental reason why corruption continues. Lack of confidentiality and protection after a whistleblower has come out sees "informants live a much poorer life once the whistle has been blown. This puts people off..."[3]
Plus, the Corruption Perceptions Index that scores countries on the level of corruption in the public sector matches almost perfectly with the analysis of whistleblowing systems around the world by UN.[4]
Research by BRCGS found that 43% of frauds are detected by a tip-off. 50% of all tip-offs are provided by employees and 35% come from people outside the organisation – customers, vendors and competitors.
And on average, organisations with a hotline as one of their internal controls see a 49% reduction in the total number of frauds and a 33% reduction in the duration of a fraud.
The message? Lack of protections for whistleblowers sees more fraud but whistleblower systems reduce corruption, fraud and human rights protections, and improve business performance.
The EU Directive on Whistleblowing
This brings us full circle back to the EU Directive on whistleblowers. To arrest these trends, it's important for companies to comply with the regulations.
But in a recent survey on readiness for the EU Whistleblower Directive, BRCGS found that only 14% of respondents had a full plan and solution ready for the Directive. On the other end of the spectrum, 55% of people responded "What Whistleblowing Directive?"
This had the highest response rate.
What the poll shows is not just the lack of preparedness for the Directive but also potential risk of non-compliance to other laws around the world, and even BRCGS Standards.
If you feel your business falls in this category and you would like to find out more about how you can set up a solution that is compliant, head over to our pages on the BRCGS Confidential Reporting solution.
[1] https://www.theguardian.com/global-development/2021/feb/22/world-faces-pandemic-human-rights-abuses-covid-19-antonio-guterres
[2] http://www.crowe.ie/wp-content/uploads/2019/08/The-Financial-Cost-of-Fraud-2019.pdf
[3] https://www.forbes.com/sites/daviddawkins/2020/05/01/whistleblower-laws-take-shape-as-trillion-dollar-global-cost-of-coronavirus-crisis-forces-rethink/
[4] Environmental Rule of Law: First Global Report by the UN Environment Programme