Governance
BRCGS is operated by a Board and a Management Team. The organisation receives strategic and technical input from an International Advisory Board (IAB), represented by international retailers, food service companies and manufacturers. There are three Regional IABs based in Europe, the Americas and Asia Pacific.  
Technical input into the portfolio of BRCGS' Global Standards are managed through Technical Advisory Committees, consisting of industry representatives. These committees provide guidance on technical policy, application and development of the Standards, and industry feedback.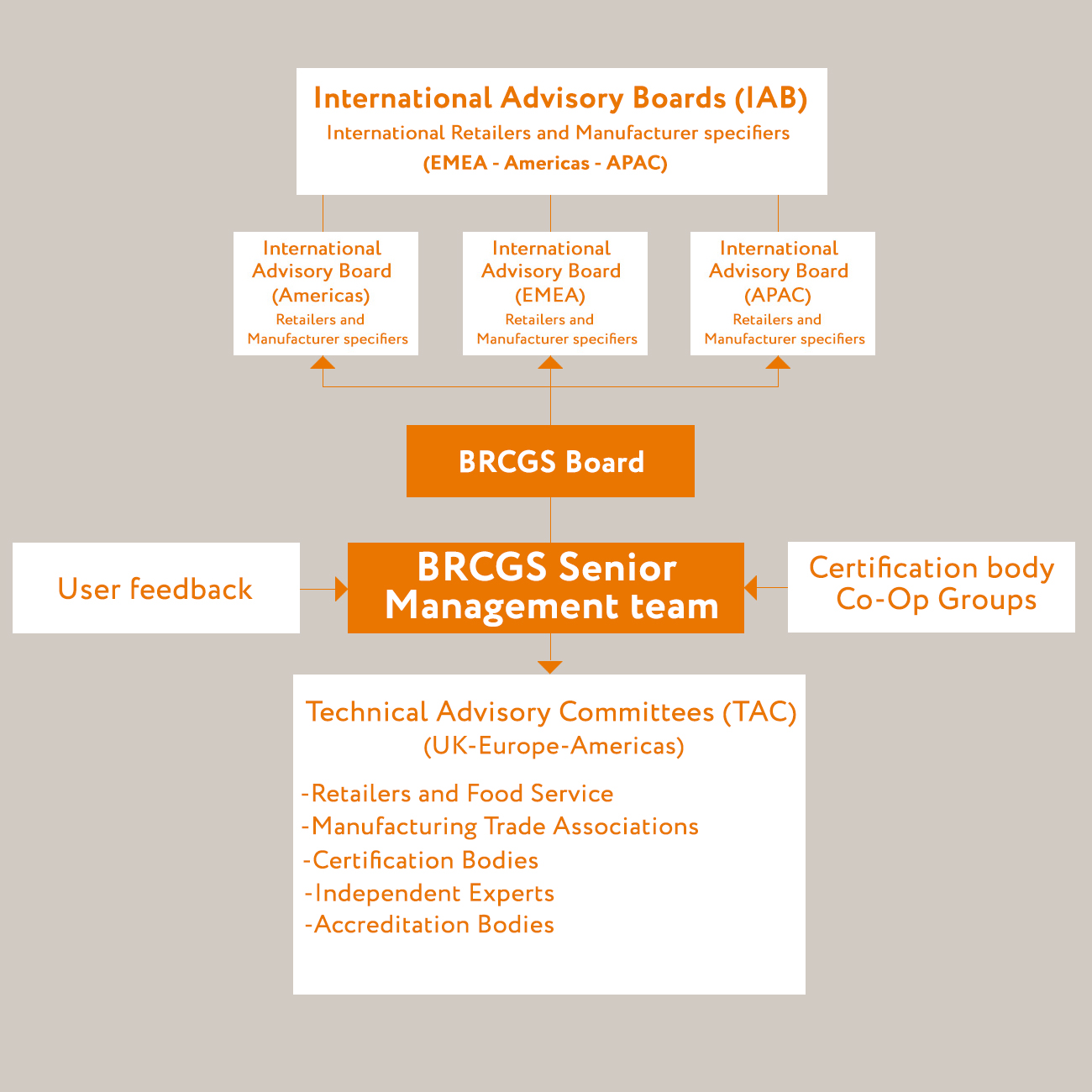 Technical Advisory Committee (TAC)
The Global Standards and associated schemes are managed by the BRCGS Technical Team and governed through a number of technical committees, each of which works to a set of defined terms of reference. These committees provide a forum for input from various bodies and individuals with an interest in product safety, for example manufacturing trade associations, retailers and food service companies, regulatory bodies, accreditation bodies, certification bodies, and sector experts. 
International Advisory Board (IAB)
The International Advisory Board (IAB) is made up of organisations that have an interest in the development, implementation and maintenance of BRCGS' Global Standards. The IAB consists of leading retailers and producers with a global reach and reputation, and provides strategic and technical input.
Three Regional IABs, based in the Americas, Europe and Asia Pacific have been established to ensure that input is captured on a global basis. The IAB is headed by an independent Chairman with a global understanding of Global Standards and Product Safety. The current Chairman is Alec Kyriakides.
The role of the IABs are to:
To review and advise upon strategic issues relevant to the development of the Global Standards with a view to protecting and enhancing their global reputation.
To advise on threats to, and opportunities for, the growth and development of the Global Standards.
To review performance of all aspects of the Global Standards, receive reports on internal compliance and advise on procedures to protect the integrity of the schemes.
To direct and review activities of the Technical Advisory Committees as appropriate.
IAB MEMBERS
IAB EMEA
Bizhan Pourkomailian
Director, Global Food Safety – Restaurants & Distribution, McDonalds

Caroline Easterbrook
Director WW Food Safety
Amazon

Darina Hall
Snr Director Compliance, Regulatory Compliance Team Lead & Trading Bus. Partner, Asda

Dawn Welham
Quality Assurance Director
Aldi Stores Ltd.

Emma Adams
Head of Technical
Greggs PLC 

Helen Sisson
Group Technical Director
2 Sisters Food Group

Hugh Mowat
Safety & Compliance Director
WM Morrison's Supermarkets plc

Will Watts
Head of Food Technology - Central Operations
Marks and Spencer

Kate Stein
Director of Technical
Sainsbury's Supermarkets Ltd

Leon Mol
Director Product Safety & Social Compliance
Ahold Delhaize

Lindsay Hay
Director of Quality Assurance
PepsiCo

Sabrina D'Arcy
Regional Director Food Safety & Sanitation
Kerry Group

 

Steve Purser
Product Regulatory Compliance & International Director
Tesco PLC

Maddy Wilson
Head of Quality and Technical at Waitrose
IAB NORTH AMERICA
Ana Morales
Global Director, Food Safety
Grupo Bimbo SA de CV

Andrew Clarke 
Senior Director, QA – Control Brands
Loblaw Companies Ltd.

Asya Salter
Sr. Director Supplier Food Safety
Walmart

Colleen Mueller
Head of North American Food Safety
Anheuser Busch InBev

Danielle Harper  Director, Product Excellence, Private Brands
Retail Business Services

Darrell Portz
Vice President Quality & Food Safety
Hostess Brands, LLC

Suzanne Finstad
Vice President, Food Safety & Quality Assurance
Tyson Foods, Inc

Martin Deferarri
Global Director Food Safety & Quality Management Systems & Transformation
McCains

Mitch Gilgour
Sr. Director, Quality Assurance
Sysco Corporation

Patricia McGeough
VP Food Safety, Quality, Safety & Environment
Kerry Group

Robert Prevendar
Director, Food Safety & QA
Yum! Brands

Rodger Ziolkowski
VP Global FSQC
Griffith Foods

 

Sharon Birkett
VP Global Quality Operations
OSI Group

 
IAB APAC