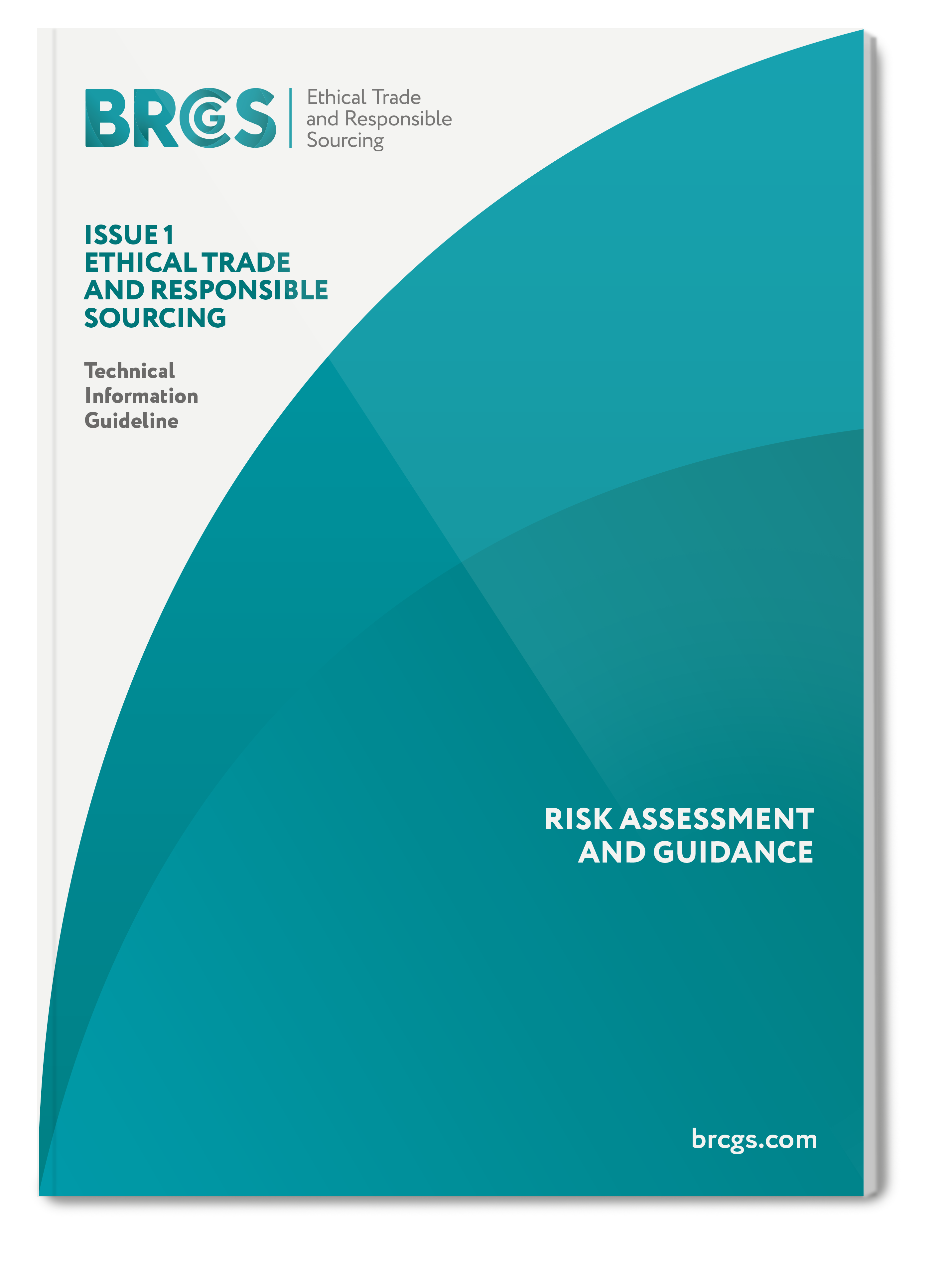 Ethical Trade and Responsible Sourcing Risk Assessment Module and Guidance
SKU: 978-1-78490-397-8

Publish Date: 01 August 2019

Size: A4

Publisher: BRCGS
The aim of the Risk Assessment module is to provide a framework to assist sites to measure their performance against the 5 Vital Signs (herein known as "the Vitals") of ethical trade and responsible sourcing. Although the Risk Assessment draws the Vitals from the Global Standard for Ethical Trade and Responsible Sourcing, the 2 products are distinctly separate and there is no further link between them. So, the Risk Assessment is designed to provide a "health check" on a site's ethical trade and responsible sourcing performance, rather than a grade or certification.
By using a checklist that contains a weighted scoring mechanism, the Risk Assessment allows an auditor to identify areas where there is increased risk and where improvement and/or corrective action is needed. It provides an independent review of a site's performance against the critical elements of ethical trade and responsible sourcing that they can share with their customers via the BRCGS Directory.
This means that the Risk Assessment can be done at the same time as a technical audit against another Standard and by the same auditor. Each auditor will have received training on the Risk Assessment and the usual BRCGS procedures that underpin the governance and compliance management of all Global Standards and associated modules. Further details of Risk Assessment Auditor Competencies can be found in the Guidance.
Who should use this module
The Risk Assessment can be used by sites in several ways:
Sites that have not been audited
Sites that have never had an ethical trade or social compliance audit can use the Risk Assessment to evaluate their current performance, helping them to understand where they are performing well. For example, where their existing management practices meet the expectations of civil society as well as their customers. Similarly, the Risk Assessment will help them to identify areas where they need to take corrective action to improve their ethical trade and responsible sourcing performance.
Sites already certtificated
Sites who have already had an ethical trade audit, with an audit frequency that is greater than one year can use the Risk Assessment to check and verify that their systems and processes are working effectively. It not only supports their own internal assessments of their performance, it also demonstrates their ongoing ethical trade and responsible sourcing commitment to customers and other stakeholders.
Specifiers to review risk in their supply chains
Specifiers (including buyers, brands and retailers) can use the Risk Assessment to support their own due diligence and assurance programmes, helping them to verify the level of risk that exists in their supply chains. It can be particularly useful where ethical trade or social compliance audits have not been done before, such as the on-boarding of new suppliers where full audits may be considered unnecessary. This may be due to their "low risk" location or the information the site has provided on their self-assessment declaration.
It is a requirement that all suppliers undergoing an Ethical Risk Assessment Health Check have access to an official copy of the Risk Assessment Module and Guidance.
Use of BRCGS intellectual property
Information on how you can use BRCGS Standards, guidance and published content can be found here. You can also find a list of answers to common question on how BRCGS content can be used here.