About the Programme
Grow your career. Improve brand and consumer confidence and stay up-to-date with product safety best practice. Become a BRCGS Professional today.
Available exclusively to BRCGS certificated sites, our holistic learning programme covers all the core skills and behaviours required to implement BRCGS Standards within your site. 
In addition, the value of BRCGS Professional has been recognised by leading brands, who are seeking to drive up quality from their suppliers. 
The programme is made up of industry-leading BRCGS training across all Standards, Hazard and Risk Management and Product Safety Management, with the aim of creating dynamic leaders that deliver trust for your customers and help your business gain a competitive advantage.
By joining the programme you'll be a part of a growing network of over 8,000 Professionals from all over the world, so you'll have the opportunity to grow your network and share industry best practice.
You can also tailor your learning based on your job role, prior learning and expertise by following the steps below: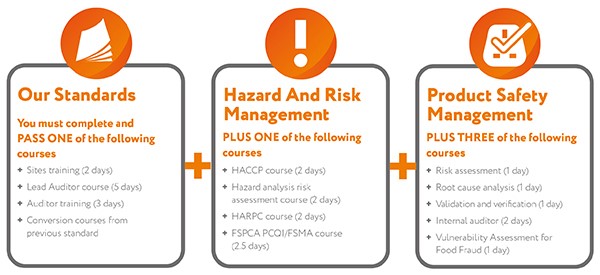 Expect between seven - 11 days of classroom learning, with workplace assignments included for some courses. That means you can gain your Professional qualification in a little as 3-weeks (and even sooner if you've already completed any of the requirements).
Download the BRCGS Professional Welcome Pack for more information.
Browse our FAQs or email professional@brcgs.com for further assistance.