Maintaining BRCGS Professional Status
Continuing professional development is a fundamental part of any career, demonstrating your commitment to best practice, innovative trends and keeping you at the forefront of your industry.
See exclusive benefits for BRCGS Professional Graduates
Once you have graduated as a BRCGS Professional, you will begin our Professional Progress Programme to maintain your status with professional development tailored to your individual needs and goals. 
Maintaining your status with the Professional Progress Programme will:
Keep you up to date with industry and maintain a global benchmark of skills
Raise your status as a valuable employee
How does it work?
The Professional Progress Programme operates on a 2-year cycle, which begins as soon as you have achieved BRCGS Professional status. You must meet the following requirements within the 2-year period to maintain your status:
Design your own professional development
You can decide how you achieve your 20 Professional Progress Points and design your own professional development by selecting activities from the points matrix below. The points are not restricted to BRCGS activities; if they're relevant to your career they can be counted as Professional Progress Points.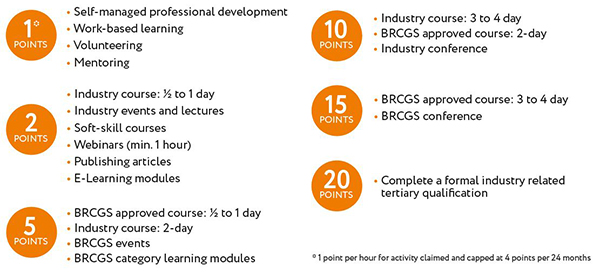 Other useful information: