Rentokil - Experts in pest control
Every year, pest and hygiene problems cause enormous damage to the food industry. They disrupt production, hit revenue and pose major threats to health, safety and sanitary compliance. Pests and hygiene issues are also a common cause of non-conformities in site audits against the rigorous BRCGS Global Standards.
Rentokil Initial is one of the largest business services companies in the world offering services including Pest Control, Hygiene and Workwear.
Rentokil Pest Control is the world's largest international Commercial Pest Control company providing the highest levels of risk management, reassurance and responsiveness to customers.
With over 90 years of experience, we are trusted by our customers in over 67 countries to help advance their food safety standards.
The Experts in Pest Control
As leading industry experts, we know exactly what it takes to protect your business against a wide variety of pest and hygiene issues. We ensure that our pest control technicians have up-to-date training in the latest techniques, tools and safety guidelines, as well as high level of pest knowledge and local insight. Our teams of local experts draw of years of experience and apply expert knowledge to assess risk and deliver a tailored solution that provides optimal protection for your business.
Leading Innovation
We understand the challenges your business faces when assessing and controlling risk throughout complex global supply chains. That's why we drive continuous innovation and develop new technology to offer the next generation of products and services that provide customers with unrivalled insight, audit compliance and the ability to proactively manage risk.
Our Global Science Centre based in the UK, monitors pest behaviours and how they are evolving. This enables us to create the best possible solutions for you to stay compliant today. It also means we are at the forefront of developing new breakthrough solutions to meet the pest control challenges of tomorrow.
● Connected technology for both pest control and hygiene - our innovative new wireless Connect systems protect your business with real-time remote 24/7 monitoring and online reporting. Our PestConnect Systems are designed to maintain a pest free environment in your business at all time. Each unit features integrated sensor technology that actively detects, captures or kills a variety of pests to avoid interruption to your business network or machinery.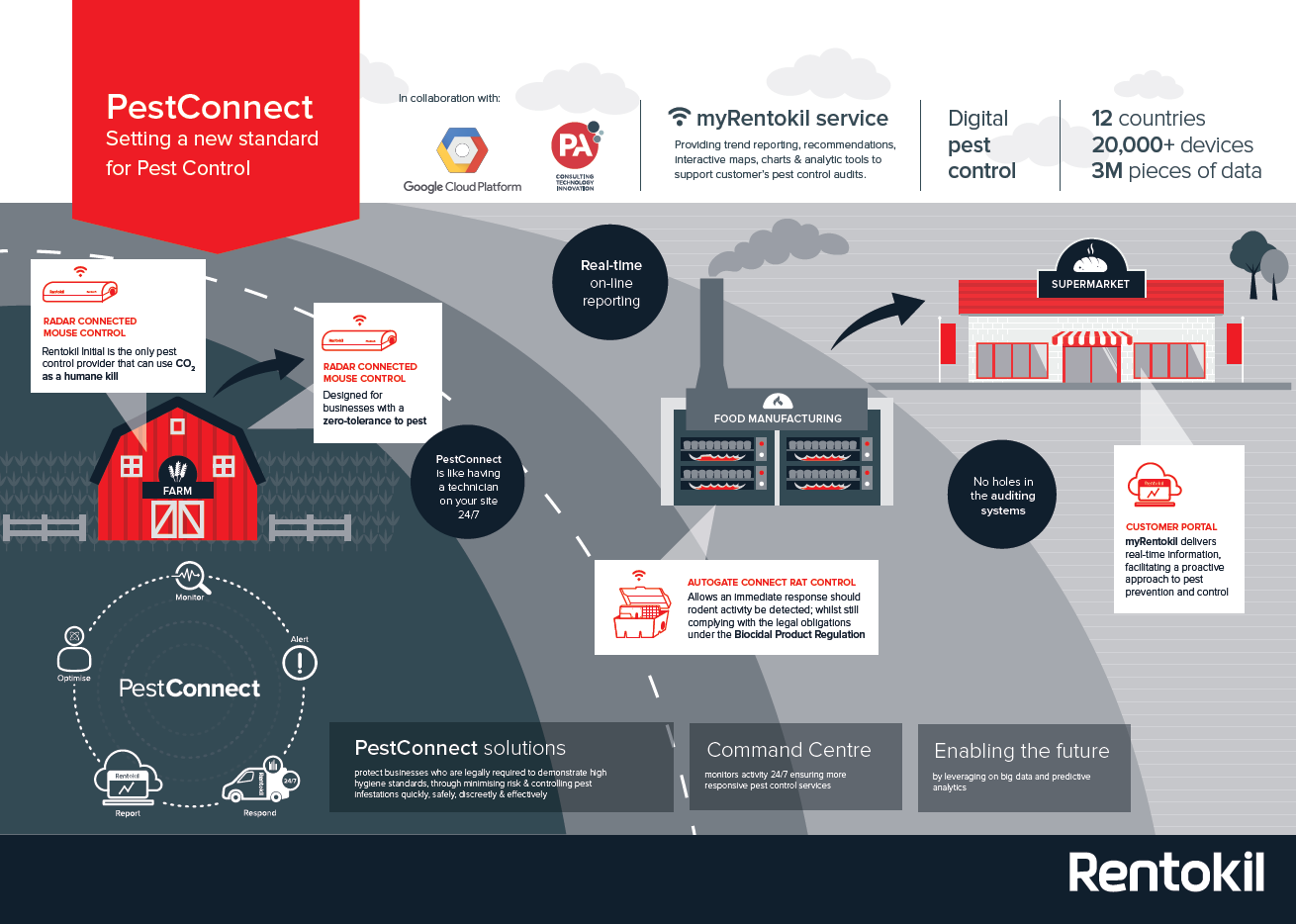 ● Online pest management, reporting and analysis: MyRentokil is an online pest management and reporting system that provides you with trend reporting, recommendations, interactive maps and charts to support all of your pest control audits. Fully integrated with PestConnect, MyRentokil is easy to use and delivers real-time information for a proactive approach to pest control and prevention.

● The new wave of innovation in fly control: Flies are one of the most likely insects to cause damage and disruption to food business. Lumnia, our innovative new solution for monitoring and controlling flying insects, has been developed with proven innovative LED technology. Lumnia units are designed to attract, kill and encapsulate insects hygienically, eliminating the risk of contamination.

● Effective new biocides: Rentokil undertakes research to keep ahead of changing regulatory requirements. For instance our RADAR rodent control units use CO2 rather than traditional rodenticides. RapidPro is the world's fastest acting rodenticide for rapid reduction in mouse infestations, including those resistant to traditional rodenticides.
For further information, get in touch.